Your Score:
Your Ranking: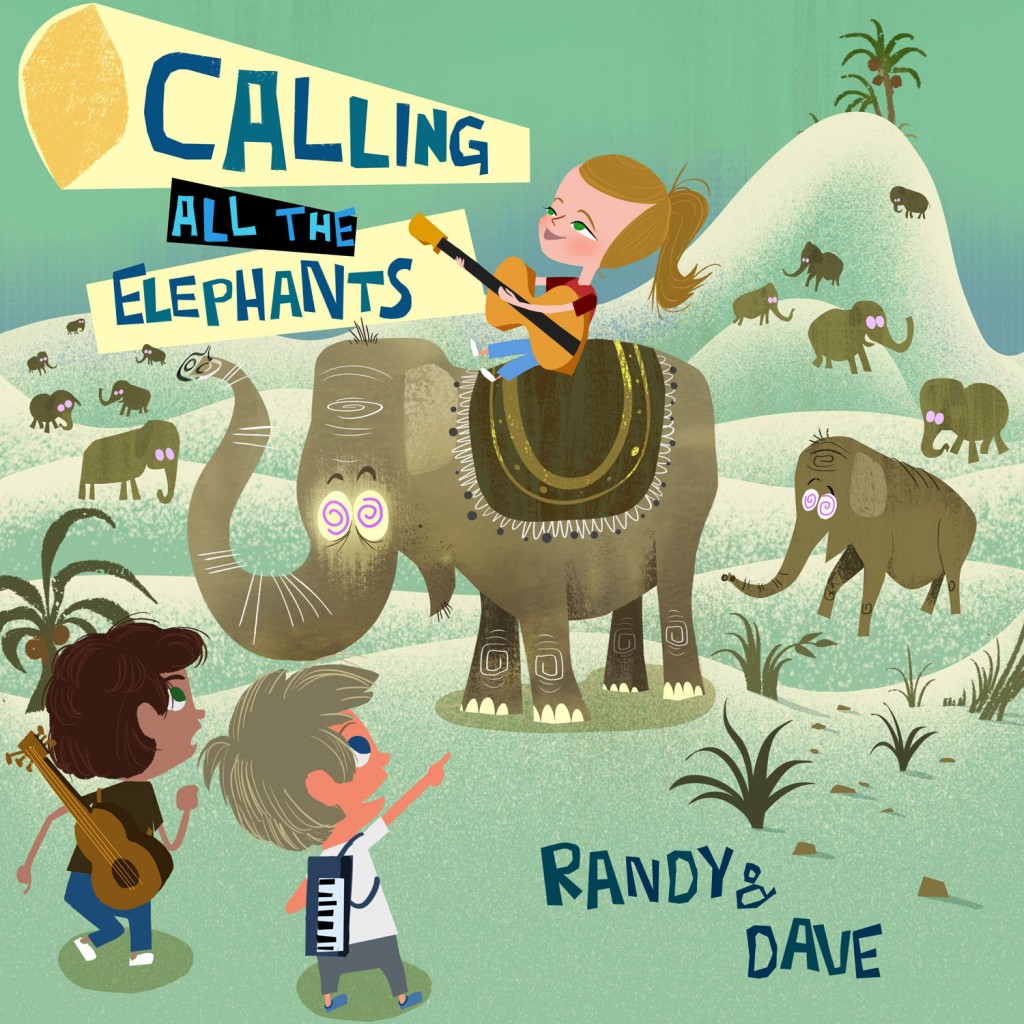 You have to hear this to believe it!
Listen / Buy. Lyrics / Chord Charts. Just Click the Cover.
Raves for 'Calling All the Elephants':
---
Randy & Dave outdo themselves with off-the-wall wordplay, comic wit and underlying kid-savvy messages expertly integrated into a musical framework loaded with pop music references.
– Parents' Choice Foundation
---
…packed with whimsical ideas, clever writing and a nice variety of musical styles. "Last Word" and "Hum" are a pair of wonderfully witty tunes that rank among my favorites of the year.
– NAPPA Awards
---
…appeals not just to the minds and ears of its young target audience, but to their parents as well. The blend of charismatic song-writing, playful lyrics, and high caliber musicianship makes the songs memorable and increasingly enjoyable with each repeat listening. Varied tempos, irresistible rhythms, highly sing-able lyrics, and an almost surgical ability to tickle the funny bone elevate Calling All the Elephants to a high level of family musical entertainment.
– Tillywig Awards
---
I really liked watching my students listen to it. The first song they picked up right away and started filling in the rhyming schemes. They laughed at a lot of the funny lyrics and danced to some of the more upbeat songs. This album is extremely well composed. The songwriting is of high caliber and the uniqueness and creativity of the songs are extremely good and really fun.
– Academics' Choice
---
A wonderful trip down the rabbit hole without a parachute. Brilliant work that pushes the envelope of children's music in a really cool way!
– Kidzmusic.com
---
Care to meet a cast of colorful characters? If your family enjoys a good story with a hefty dose of wacky humor, then you're in for a treat… This album is a honky tonk quirky circus of fun—cleverly imagined by a multi-talented duo who joined together for the first time on this project.

Firmly grounded in his country roots, Randy Sharp brings his extensive hit making experience to the children's music scene. He joins forces with legendary Dave Kinnoin…

The real talent lies within the stories on this album, and with the impressive list of songwriting credits between these two musicians, it's no wonder they've outwritten themselves. Lyric writing talent aside, there's vocal talent here too. While there's a touch of multi-genre flavor on the album, all-in-all it's rather cohesive with its overall country feel.

Most appreciated by older listeners who can pick out the puns and humor hidden in the lyrics, I think this album is well suited for families to enjoy together.

Definitely worth adding to your summer playlist.
– Swing Whistle Zing
---
Randy and Dave's Excellent Kindie Adventure.

Professionalism and children's music do not go hand-in-mitten on every occasion. Randy (Sharp) and Dave (Kinnion) have decades of professional musicianship between them. Together, they have produced a countrified romp around the world and back again.

Speaking of professionalism, these guys are such pros that they want you, the listener, to be able to replicate their songs. The enclosed booklet of lyrics comes with the chords to all tunes. Pretty nifty touch.
– Mr. Jeff 2000
---
Put on the headsets and buckle up because 'Calling All the Elephants' is one of the best albums in a long while to make you laugh out loud and snort milk out of your nose! The word-play, songwriting and musicianship are exemplary. Randy Sharp and Dave Kinnoin, two-seasoned performers, flex their musical chops and in the process push the creative boundaries of children's music in a profoundly wondrous way. These crafty clutch of tunes hatch from basic concepts and happenings into mini-operas of mirth and merriment. Be yourself. Be resourceful. Be different. Be inventive. Be creative. Have FUN! Who could ask for anything more. Loved this album!
– John Wood, Kidzmusic.com
---
…a fun musical outing spiced with colorful characters and clever wordplay.
– L.A. Parent
---
Frankly, it is genius!
– Songs for Teaching
---
Lyrics are stellar, brilliant and quite appealing. The music and production are terrific. Plus, there are many wonderful surprises. Very clever! Everything clicks like an expensive watch. It's rare to discover an album that appeals to older children, doesn't talk down and takes conceptional chances. This is a breath of musical fresh air. In ways, it is purposely disrespectful of what is considered appropriate in children's music. Therefore, kids will love it!
– KIDS FIRST All Star Endorsement
---
Kids will get a kick out of these funny songs.
– BookwormBev, San Antonio Public Library
---
…an uproarious children's album filled with witty lyrics, catchy themes, and a sense of pure fun. Award-winning songwriter Randy Sharp and musician Dave Kinnoin have teamed up as "Randy & Dave" to bring joyful silly-songs to all ages. Highly recommended!
– Midwest Book Review
---
…lots of stylistic range and loads of silliness. Particularly enjoyed the 7/8 chorus of the classroom-appropriate tune "Counting One, Two, Three."
– Kids' Music That Rocks
---
Kids can expect to have a good time when in the company of Randy & Dave. Kids are sure to laugh… certain to incite entertainment in young children.
– NewSound Kids In Review
---
Awards!
Parents' Choice GOLD Award
NAPPA GOLD Award
Tillywig Awards Best Family Fun
Academics' Choice Smart Media Award
KIDS FIRST All Star Endorsement
Creative Child CD of the Year
---
Hear Randy & Dave on the Radio and Internet!
WXPN, Kids Corner
KDHX, Musical Merry Go Round
WFDU, Imagination Parade
Montana Public Radio
Asheville FM, T-Bone's Radio Active Kids
Zooglobble, May Playlist
Saturday Morning Cereal Bowl
KAOS, Cottleston Pie
Voice America Radio
---
Who are Randy & Dave really?
Randy is Grammy®-winning songwriter Randy Sharp. Randy has had seven #1 country singles and has written songs for country luminaries including Reba McEntire and Marty Robbins, Dixie Chicks, Emmylou Harris, Clay Walker, Dolly Parton, as well as other music stars such as Linda Ronstadt, Edgar Winter, Blood Sweat and Tears, Art Garfunkle, Patti Page and Big Bird, and Glen Campbell. Randy has such a rich history in music that it would take pages to cover it all.
Dave is Dave Kinnoin, whose previous eight children's recordings have racked up an impressive list of over 20 awards including Parents' Choice Gold, NAPPA, Academics' Choice, Mom's Choice, KIDS First and Creative Child. But Dave is not the only one who records his music. Chances are if you have enjoyed songs by Mickey Mouse, Kermit the Frog, Winnie the Pooh, Big Bird, Bear in the Big Blue House, Ariel, Jasmine, Belle, Sebastian the Crab, and Larry the Cucumber, you know Dave Kinnoin, songwriter for some of the most beloved characters in television and movies. His last three recordings focused on good character, so Calling All the Elephants is quite a departure and moves him back to his earlier, silly-song roots.
---
---
Contact
Press and Sales, contact:
Regina Kelland
352-688-4640
rkelland@att.net