…thank you for your super performances…By the crowd's reaction, it's obvious you were a big hit. Your warmth, humor, and genuine enthusiasm will long be remembered…thanks for an enchanting weekend.
– Missouri Department of Conservation
He connects instantly with his audience and sustains it by genuinely enjoying himself.
– L.A. Parent Magazine
Wild and wonderful…music with gusto and guts that will get a bunch of kids into action…
– Heartsong Review
Your songs were a big hit for kids and grown-ups alike…Everyone was so happy you were there…
– Larry Rockefeller, Children's Earth Fund
The best way to describe a Dave Kinnoin concert is in the words of those who have seen one: "inspired silliness," "wild & wonderful," "laughter," "wacky, clever and bright," "an unmistakable sound," "heart and soul," "genuine enthusiasm," "gusto and guts," "moves kids to action."
Dave begins with a bang and keeps on poppin' with boundless energy, decades of experience and a sparkling love for kids. The kids are not just watching the concert, they are part of the concert as Dave constantly and enthusiastically encourages all to join in. And like a favorite cookie, every concert has a surprise in the middle: Dave and the kids make up a brand-new song! Sometimes poignant, often hilarious, these spontaneous creations make us believe that there is something new under the sun. Kids – and their parents – have a rousing good time and get fired up to express themselves. Not a bad way to spend an hour.
Concerts available with Dave solo, Dave with a bass player, or Dave with his band, The Rhythm Riders.
Here are some of the places you may have enjoyed seeing Dave perform:
Earth Day, Central Park, New York, NY
First Kids World Council, Nickelodeon Studios, Orlando, FL
Children's Earth Fund Event, Washington, DC
Taste of Chicago, Chicago, IL
Universal City Walk, Universal Studios, Universal City, CA
Tin Pan South, Nashville, TN
The Chime Festival, Knott's Berry Farm, Buena Park, CA
Children's Hospital Los Angeles, Los Angeles, CA
Kidstock, Children's Museum, Chicago, IL
Make a Wish Foundation, Los Angeles, CA
Torrance Cultural Arts Center, Torrance, CA
Grand Reopening of the LA Central Library, Los Angeles, CA
McCabe's, Santa Monica, CA
Pepsi Kid-Around, Dallas, TX
Sunset Junction Street Fair, Hollywood, CA
The O.K. Kids Club, The Oaks Shopping Center, Thousand Oaks, CA
South Pasadena Music Center and Conservatory, South Pasadena, CA
Dave's Performance Calendar Coming Soon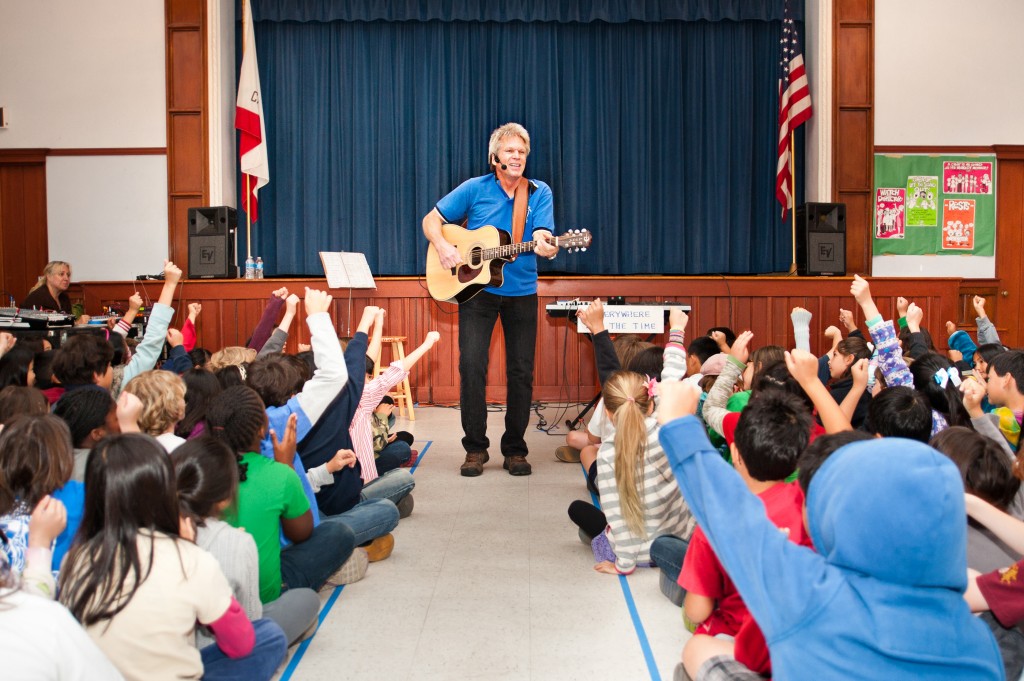 For more information or to book
Dave at your school or performance center,
please contact Regina Kelland
352-688-4640
rkelland@att.net